Únete al equipo
Únete a nosotros en nuestra misión de desarrollar avanzadas soluciones de neurotecnología para la investigación y las aplicaciones del mundo real, y sé parte de una comunidad en crecimiento de investigadores, ingenieros/as y profesionales de negocios con el potencial de mejorar la vida de las personas.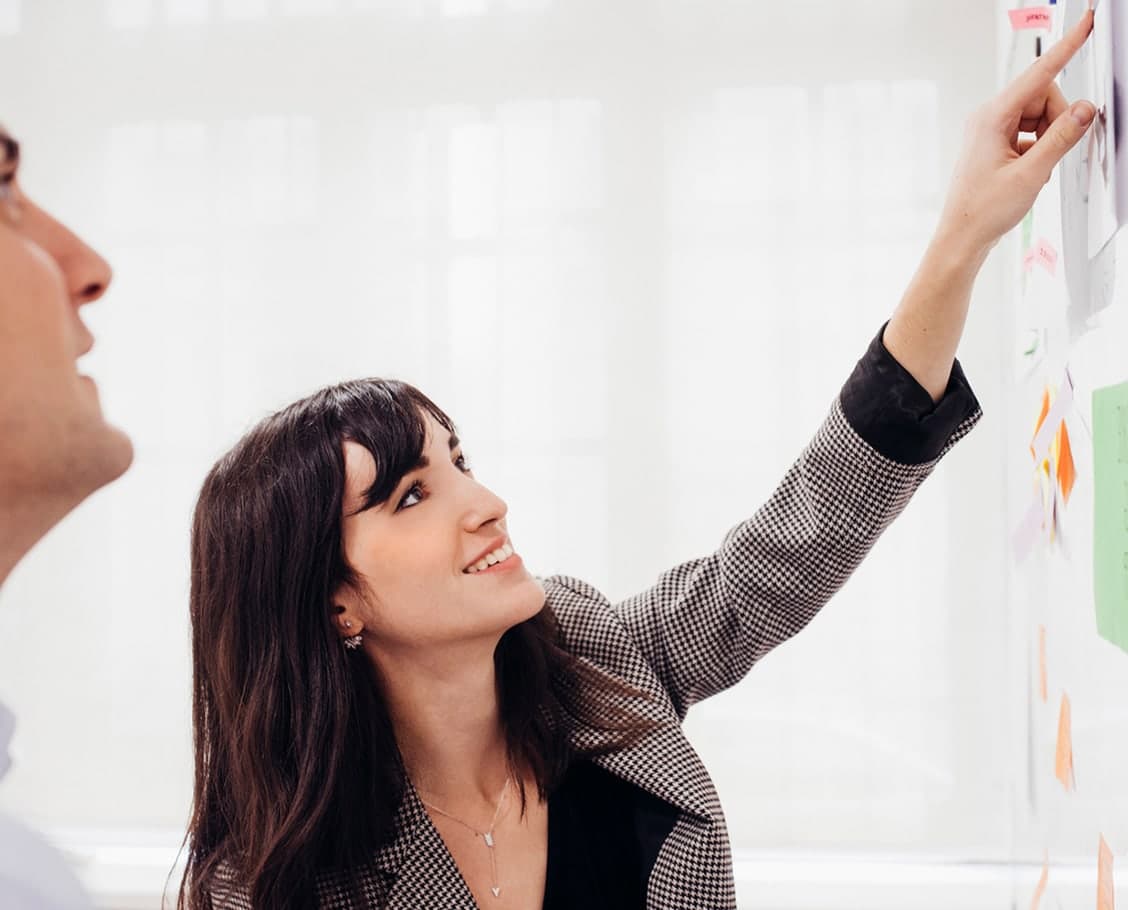 Estamos buscando personas entusiastas y con talento que compartan nuestra pasión por la innovación, la neurotecnología y la neurociencia.
Trabajar en Bitbrain significa
Descubrir nuevos retos
Trabajarás con un equipo altamente cualificado, desarrollando soluciones para un mercado emergente, en un entorno apasionante y dinámico.
Crecimiento y apoyo
Bitbrain es una empresa en expansión que cuenta con planes de soporte individualizados para ayudar a nuestros/as empleados/as a alcanzar sus objetivos profesionales.
Flexibilidad y equilibrio
Nuestro equipo disfruta de un ambiente de trabajo agradable con horarios flexibles y de un buen equilibrio entre la vida profesional y personal.
Lista de oportunidades de empleo
Junior Clinical Researcher (Ref. 22) - Zaragoza, Spain
Bitbrain is a pioneer company in the development of neurotechnology solutions. We design and manufacture EEG equipment, biosensors, and software for human behavior research. Our mission is to bring neurotechnology closer to society and improve people's lives.
At Bitbrain we are looking for a Junior Clinical Researcher to join our Clinical Neuroscience Department. The candidate will conduct clinical studies involving EEG and other advanced brain/body monitoring technologies during sleep and wakefulness. We look for a motivated person with knowledge and experience in EEG or other electrophysiological measurements, who is passionate about being in contact with people, especially with patients.
The work will be framed within a large project, funded by the Spanish Government, where Bitbrain and 14 other partners develop new technologies for the early diagnosis and treatment of diseases with high prevalence among elderly. The work will be carried out in Bitbrain (Zaragoza, Spain), in an interdisciplinary R&D department.  
What we are looking for
Enthusiastic person at a Bachelor's or Master's level, with a degree in Psychology, Nursing, Medicine, Neuroscience or similar.
Familiarity with EEG and/or other electrophysiological measurements is required.
Availability to conduct sleep studies.
Good organizational and problem-solving skills.
Adaptability to work in a highly dynamic environment.
Good communication skills in Spanish and English to interact with patients and colleagues.
Proficient use of applications on Windows and not being afraid to work with new software, learn to run some code other people have written etc.
Willing to relocate to Zaragoza, Spain.
Bonus points if
Experience with clinical trials or medical device regulation.
Experience in performing neuroscience studies (sleep, cognitive psychology, neurostimulation, etc.).
Experience with EEG data analysis or sleep/memory/cognitive scales.
Main responsibilities
Execution of clinical studies, involving cutting-edge neurotechnology for the diagnosis and/or treatment of cognitive decline and dementia.
Implementation of clinical scales with a focus on the elderly.
Laboratory organization, management of material supplies.
Support in the validation of new neurotech prototypes developed by the R&D department.
Support with data analysis.
Reporting to superiors and colleagues of experiments' outcomes in English and Spanish.
Flexible problem solving in case challenges arise. 
Perks & benefits
An international R&D environment where you can learn from multidisciplinary researchers with long experience in neurotechnology and applied neuroscience.
Familiarization with advanced neurotechnology applied to clinical contexts.
Pleasant working environment with flexible working hours and a good work-life balance.
You will join a highly qualified team developing solutions for an emerging market with great potential. Exciting and changing environment.
You will be part of a growing company that offers you the opportunity to develop professionally.
Office located in the center of Zaragoza.
Junior Software Engineer - C++ Full Stack Developer (Ref. 23) - Zaragoza, Spain
Bitbrain is a neurotechnology company whose mission is to bring neurotechnology closer to society. We develop integral solutions using proprietary software and hardware. Applications range from human behavior research, human monitoring, brain-computer interfacing and closed-loop interventions for health and wellness.
We are seeking a highly talented and motivated Junior software engineer to join our Software Development Team. The candidate has to be flexible to work in a highly dynamic environment and to adapt to fast changes in requirements.
What we are looking for:
Enthusiastic person at a Bachelor's or Master's level, with a degree in Computer Engineer or similar.
Someone interested in developing neurotech applications.

Familiarity with

C++

Familiarity with version control software.
At least 2 years of experience as software developer
Bonus points if:
Experience with Qt,

Python

, Matlab, Docker.
Experience in developing large software platforms.
Experience in developing data acquisition applications.
Experience in developing cloud computing solutions using AWS.
Fluent in English
Experience in UX/GUI
Your main tasks:
The candidate is expected to contribute to the following software modules and functionalities:
S

oftware platform to acquire and synchronize signals in real-time.
Modules to interact with our own and third-party devices (EEG, eye tracker, cameras, microphones, localization systems, etc).

Applications for real-time analy

sis, data analytics, and data visualization.
Other tasks:
Continuous development and integration of new features.
Develop new applications.
Improve the usability of GUI applications and adapt to clients' feedback.
Integrate new technologies (IP cameras, wireless systems with high bandwidth requirements) and processing algorithms.
Maintenance of the current software components. E.g., update drivers, software libraries, etc.
Deployment, setup, and testing.
We offer:
Nice working environment with flexible working hours and a good balance between professional and personal life.

High skilled and young team

developing solutions for an emerging market.

An exciting and changing environment.
Growing company with potential professional development.

Downtown office

.

Remote working

can be an option.
¿No ves una oferta que encaje con tu perfil? Ponte en contacto igualmente.
Enviar CV