Eye-tracking glasses
Wearable eye-tracking glasses (Tobii Pro Glasses 3) technology to capture and analyse natural visual behavior in real-world scenarios while ensuring outstanding robustness and accuracy.
Wearable eye tracking device
Tobii Pro Glasses 3 is a wearable and ultralight eye-tracking technology to capture and analyse natural visual behaviour in real-world environments. Developed to obtain an objective data of human visual gaze, by showing exactly what a person is watching while moving freely in any real-world environment. Its great portability, maximum comfort and minimal intrusion, open an infinite range of possibilities to use it both in the laboratory and in out-of-the-lab scenarios.
Developed with slippage compensation and an innovative 3D eye model to grant stability and minimize gaze data loss. It comes with an intuitive and powerful software platform for easy calibration, recording and real-time visualisation. Combine this technology with other devices such as EEG or other biometrics, to obtain deeper insights into human behavior.
Bitbrain sells Tobii Pro eye tracking systems in conjunction with our own compatible neurotechnology systems.
Main features
Wearable and ultralight
Non-intrusive device for real environments for real-world research.
High data quality
Developed with slippage compensation and an innovative 3D eye model to grant stability and minimise gaze data loss.
Outstanding usability
Quick and easy set up by non-technical experts or the final user and intuitive calibration and recording methods to help you with field work.
Data streaming and recording
Real-time streaming of the participant's gaze via Bluetooth and on-board SD card recording.
Sync with other biometrics
Seamless integration with 30+ complementary technologies such as EEG, GSR, EMG, eye tracking devices and others.
Third-party compatibility
Compatible with Matlab, Python, and our SennsLab software.
Main Components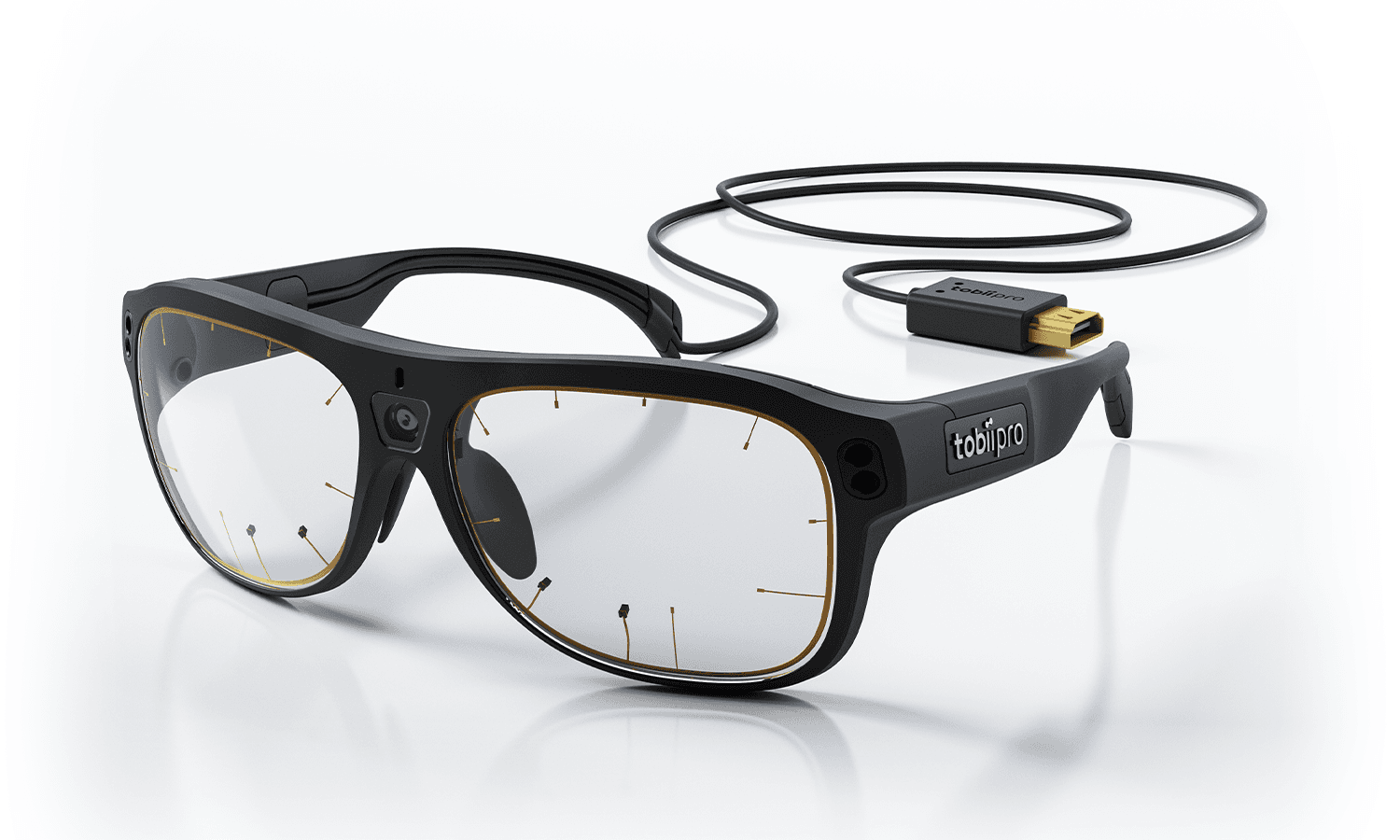 Glasses
Wearable and ultralight for the user to ensure natural visual behavior in a real-world environment. Outstanding reliability due to the slippage compensation and 3D eye model that ensures stability and data capture.
Recording unit
Pocket-sized recording unit that records (SD) and streams data via Wifi or ethernet.
How to use
Tobii Pro Glasses 3
Wearable Eye Tracking for Human Behavior Research.
To record eye-tracking data, the glasses head unit must be fitted onto the test participant's head (similar to a standard pair of glasses). After a quick and easy 1-point calibration, the researcher starts the recording from the software which is an intuitive, powerful platform to collect synchronised data in real time. Use Tobii Pro Glasses 3 with other biometric technologies for a perfect sync recording and to obtain a full vision of the participants behaviour.
1. Preparation: Connect the HDMI cable from the Glasses to the processing unit and insert the batteries and the SD card in the recording unit. After that, press the power button until the lights turn on.
2. Set up: Place the calibration target approximately 1 metre from the participant and press the calibrate button.
3. Test: Move the target side to side and ask the participant to follow it while you look at the live feed to ensure the calibration is correct.
4. Recording: Now you are ready to record your eye tracking data and export it afterwards.
5. Clean and storage: Clean the glasses with the chamois and store them in their own case.
Technical specifications
Hardware
Eye tracking
Sampling rate
50Hz or 100Hz
Calibration procedure
1 point
Calibration validation
Yes
Parallax Compensation tool
Automatic
Binocular eye tracking
Yes
Slippage compensation
Yes, 3D eye model
Eye tracking technique
Cornea reflection, dark pupil, stereo geometry
Pupil measure
Yes, total measure
Head unit
Number of eye tracking cameras
4 sensors (2 per eye)
Sensors
Gyroscope, Accelerometer, Magnetometer: ST™ LSM9DS1 (sampled at 100Hz)
Scene camera field of view (diagonal)
106 degrees, 16:9 format
Scene camera, field of view (horizontal and vertical)
95 degrees H, 63 degrees V
ADD
Audio: 16 bit mono, integrated microphone
Frame dimensions and weight
153 X 168 X 41 mm, 76.5 g (including cable)
Recording unit
Battery recording time
105m
Storage media
SD (SDXC, SDHC) card
Connectors
Micro USB, RJ45 (Ethernet), 3.5 mm jack (sync), head unit connector
Wireless
2.4 GHz and 5 GHz band
Dimensions
130 X 85 X 27 mm
Weight
312 grams
Software
Tobii Pro software kit (included with equipment)
Tobii Pro real-time SDK and Tobii Pro Glasses 3 API
In C/C++ for Windows and Linux
Tobii Pro Glasses Controller data acquisition and visualization
Live visualization, streaming or SD recording, data export in *.json and raw data visualization
Third party data processing
Matlab and Python
Bitbrain software platforms (optional)
Bitbrain Human Behaviour Research Lab
Practical research platform for experiment design and data acquisition with 30+ sensor modalities seamlessly synchronized, and analysis with a wide range of emotional and cognitive biometrics available.
Bitbrain Programming Platform
Multimodal real-time neuroscience or brain-computer interface development.
What is included
Bundle
The devices are easily stored and transported within a briefcase.
Eye tracking & recording unit
Caring case for Tobii Pro Glasses 3
Nose Pads in different sizes
3 Rechargeable batteries
3 Calibration cards
3 SD memory cards + sleeves + SD/USB adapter
Ethernet cable (3 metres)
USB data stick with documentation and software
SD Card Reader
Tobii Pro Software Kit
Support
Basic Support is included during the life time of the product.
Email support
Technical assistance
Knowledge base
Optional Premium support is available.