SennsMetrics
A step forward in the data analysis of human behavior, with a complete, flexible, and practical solution developed for applied research.
A step forward in data analysis
SennsMetrics is a data analysis tool that includes a wide range of emotional, cognitive and behavioral metrics. It provides an additional layer of data processing to segment, analyze and visualize your results through its flexible and intuitive tools.
Use experimental design templates and record your study with SennsLab, decode your data with SennsCloud, and analyze and visualize your results with SennsMetrics, covering the entire workflow of your research.
Wide range of metrics
Obtain meaningful metrics of emotional, cognitive, and behavioral data to enhance the analysis of your results.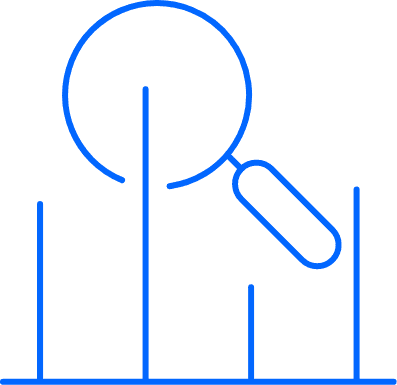 Powerful analysis tools
Flexible and intuitive analysis tools to segment, edit, and visualize your data, to cover all your analysis needs.
Advanced visualizations
Unique visualizations that combine the metrics of multiple sensors to draw the full portrait of the participant reactions.
Any kind of stimuli presentations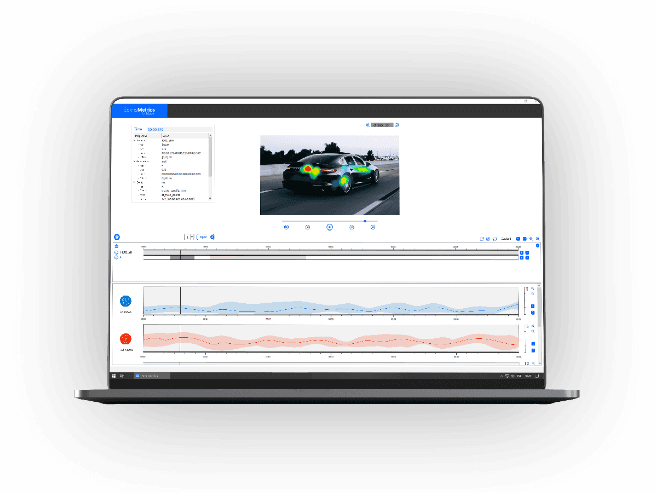 Analysis tools
Real-time visualization
Powerful analysis tools
Individual & aggregated results
Wide range of biometrics
Biometrics
Workload
Captures the use of cognitive resources to perform a task or visualize a stimulus.
Engagement
Degree of involvement or connection between the person and the stimulus or experience.
Memorization
Intensity of cognitive processes related to the formation of future memories during the presentation of a stimulus.
Valence
Range of attraction experienced during the presence of a stimulus or experience. It varies from a "positive / pleasant" to a "negative / unpleasant".
Impact
The physiological "jolt" triggered by a specific stimulus.
Emotional activation
Physiological activation produced by an experience in time. It ranges from a state of calm to a state of excitement.
Visual attention
Areas of visual interest. It captures the elements that mainly attract gaze and quantifies consumer's visual attention.
Implicit associations
Captures the level of comparative association between two concepts and various attributes.
How it works
Combine emotional and positional metrics
You will acquire new analysis tools that combine visual attention with emotional biometrics, allowing you to analyze combined results in a more easy way.
For example, creating a new heat map, but this time with emotional information, when the participant is looking at a specific location.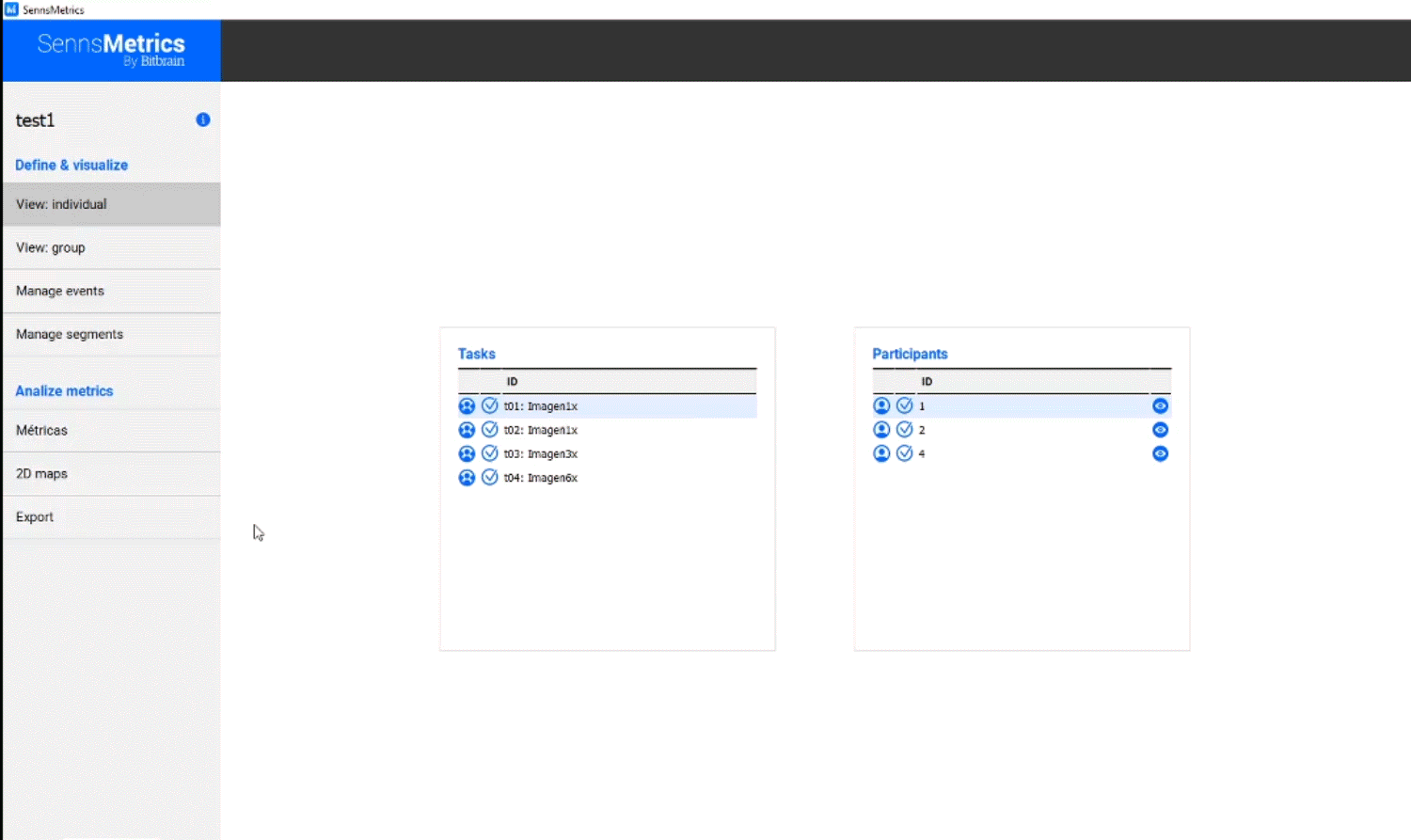 Data segmentation
SennsMetrics supports data segmentation in the individual or group view. You will also be able to delimit specific intervals of interest with great flexibility. These segments will appear later, as you define them, in the analysis phase.
If you need to add or correct segments again, it will be as simple as going back to the previous phase and modifying what you need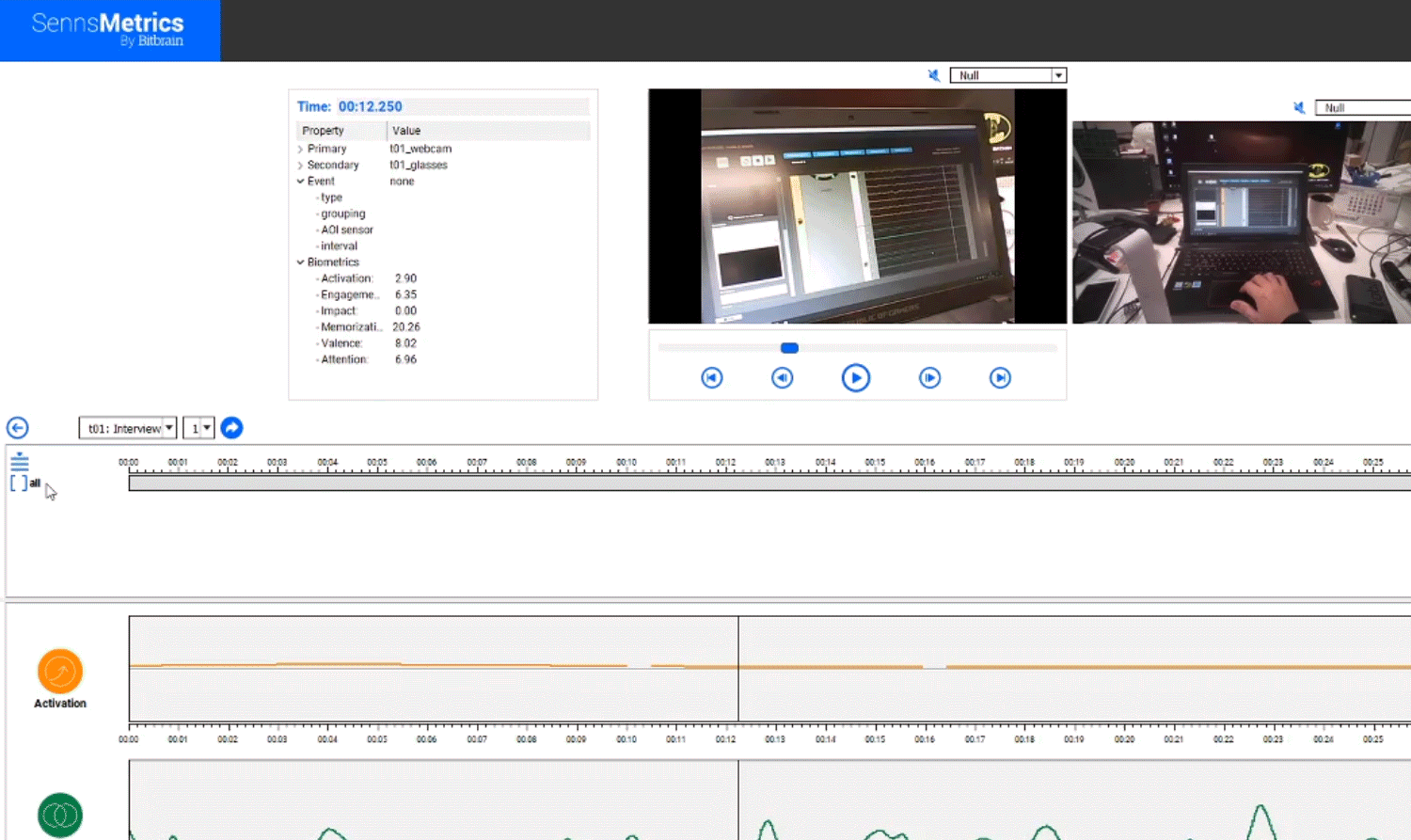 Emotional maps
Emotional maps are great tools to represent, on two-dimensional axes, the correlation between two metrics, such as emotional activation and valence, to compare, in a very visual way, the positioning of the stimuli or the tasks of your experiment. Therefore, you will be able to represent how positive is the experimented emotion and how intense it is.
These maps are highly useful to compare the emotional positioning of a brand with respect to the competition, or to compare the effort required by a specific task compared to another.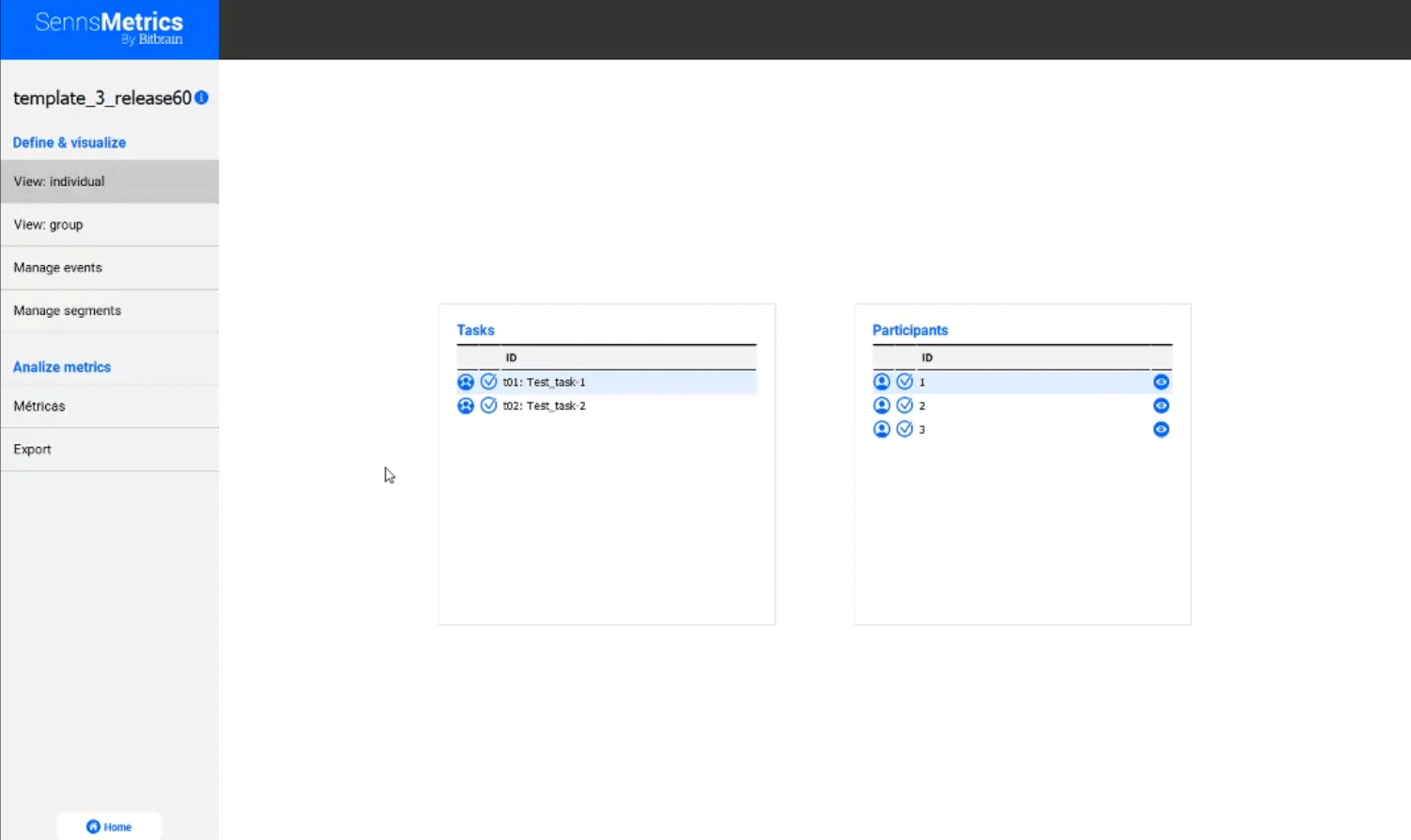 Metrics visualization
Generate comparative graphs, videos, or result maps to analyze your stimuli and to communicate the results within a state-of-the-art report.
Choose how you want to represent your data the way it fits better to your organization, your team, or your clients.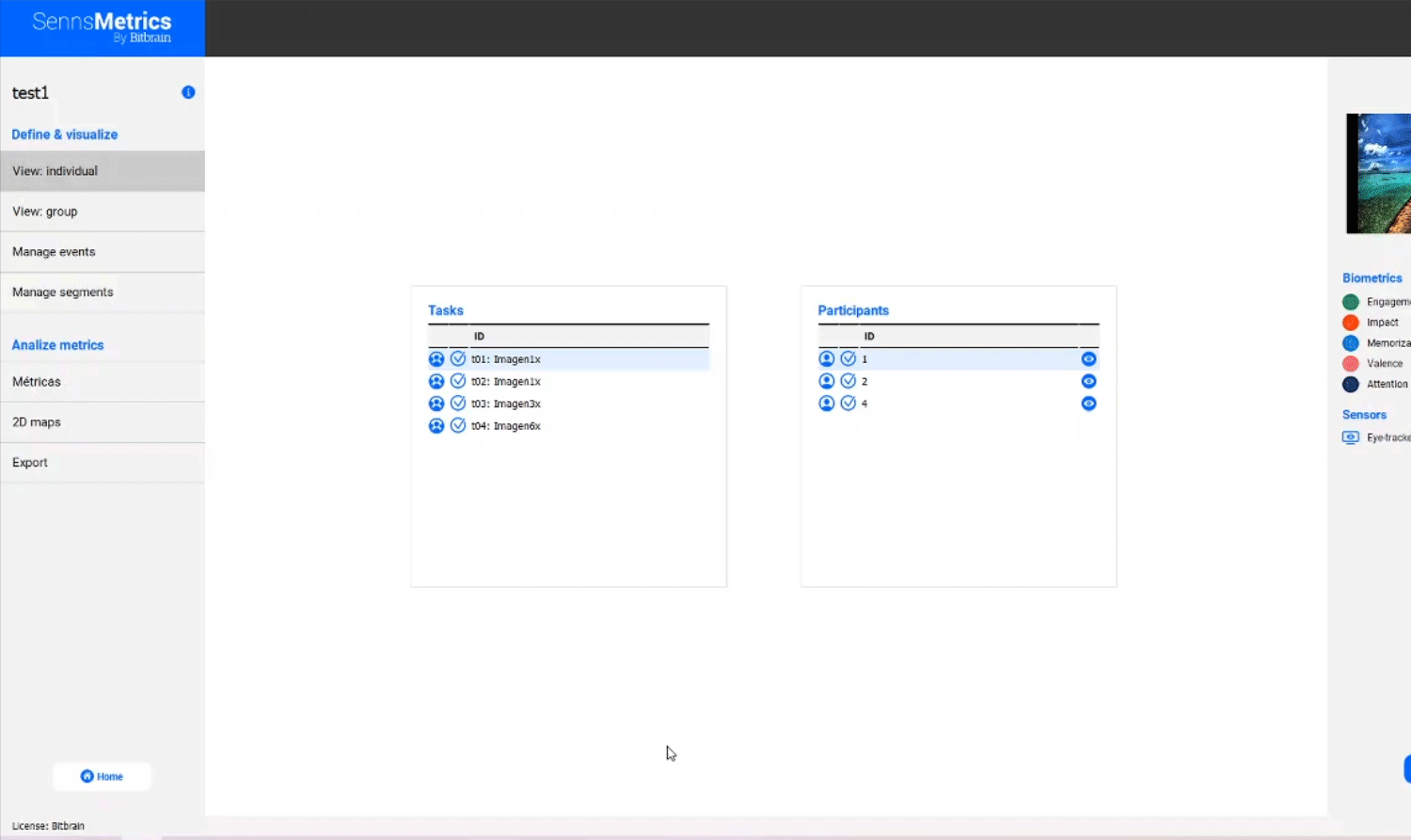 Data export
Export all your data in an organized way so you can proceed with additional statistical analysis of the results.
Download, along with your maps, graphs, and videos, the full scope of your data in an excel file using summary tables or time series data.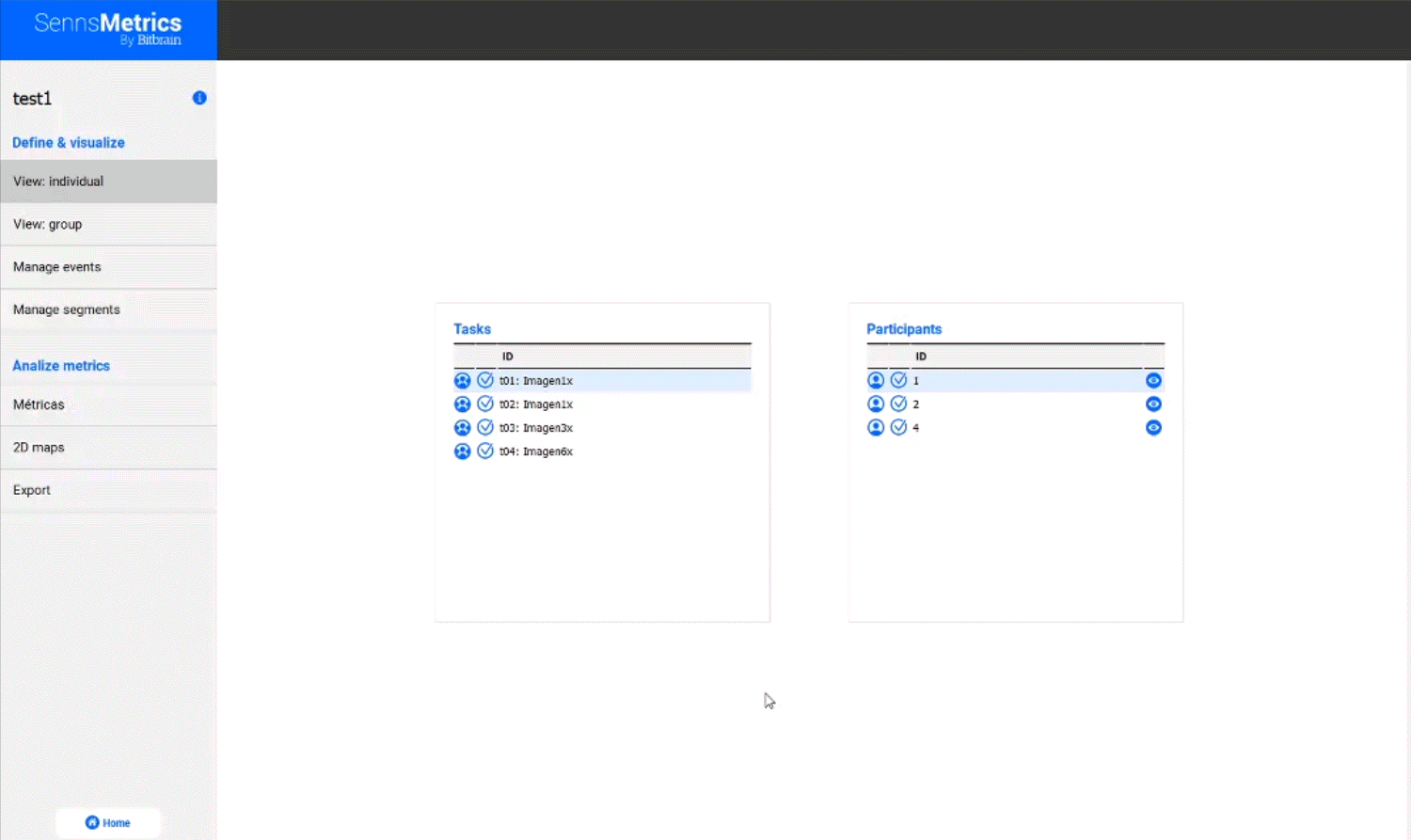 Output example
Results output example - Multimedia Output
A study conducted with EEG, GSR, BVP, and eye tracker.
Technical specifications
Human Behavior Metrics
Human Behavior Metrics
Emotional biometrics
Valence, emotional activation, emotional impact.
Cognitive biometrics
Attention, memorization, engagement.
Behavioral metrics
Mouse tracking, time.
Eye tracking metrics
Visual attention, fixations.
Implicit motivation and actitudes
Implicit association response tests (IAT and Priming).
Metrics representations
Individual
For biometrics, time and implicit association: Bar charts & statistical differences tables. For eye tracking and mouse localization: heat maps, ratio maps, time maps, trajectory maps, areas of interest (Time to First Fixation, Time spent, Ratio, Revisits, Average Time of Fixations, Previous Fixations) & aggregated fixation video.
Combined
Emotional positioning maps, videos combining metrics, stimuli, cameras & microphones (aggregated, aggregated by segment or individual).
Output format
Output format
Files
All biometrics (individual and aggregated) in CSV format, compatible with third party tools (Matlab, Excel, etc)
Visualization software
Bitbrain biometrics visualization software. Analysis of intervals and areas of interest.
Multimedia materials
Representations and videos included for reporting.
What is included
Support
Basic Support is included during the life time of the product.
Software updates
Email support
Technical assistance
Knowledge base
Optional Premium support is available.
A step forward in data analysis
SennsMetrics is an extension of the SennsLab software tool which includes the most common study design templates, a wide range of cognitive and emotional biometrics, and a powerful data analysis platform.
Pre-designed studies
Built-in stimuli presentations to speed up the project design by standard and validated experimental protocols.
Wide range of biometrics
Emotional valence, activation and impact, attention, memorisation, engagement, and visual attention.
Powerful visualisation tools
In-depth data analysis with individual and aggregated data with a time resolution of 0.25 sec, with multimedia materials for visualisation.
Flexible and refined analysis tools
Analysis and visualisation tools for further refined analysis of group segmentations, time intervals of interest and visual areas of interest.
Scalability & Integrations
SennsMetrics grows at the same pace you do. Add more sensors, to get access to more metrics and complement your insight into human behavior.