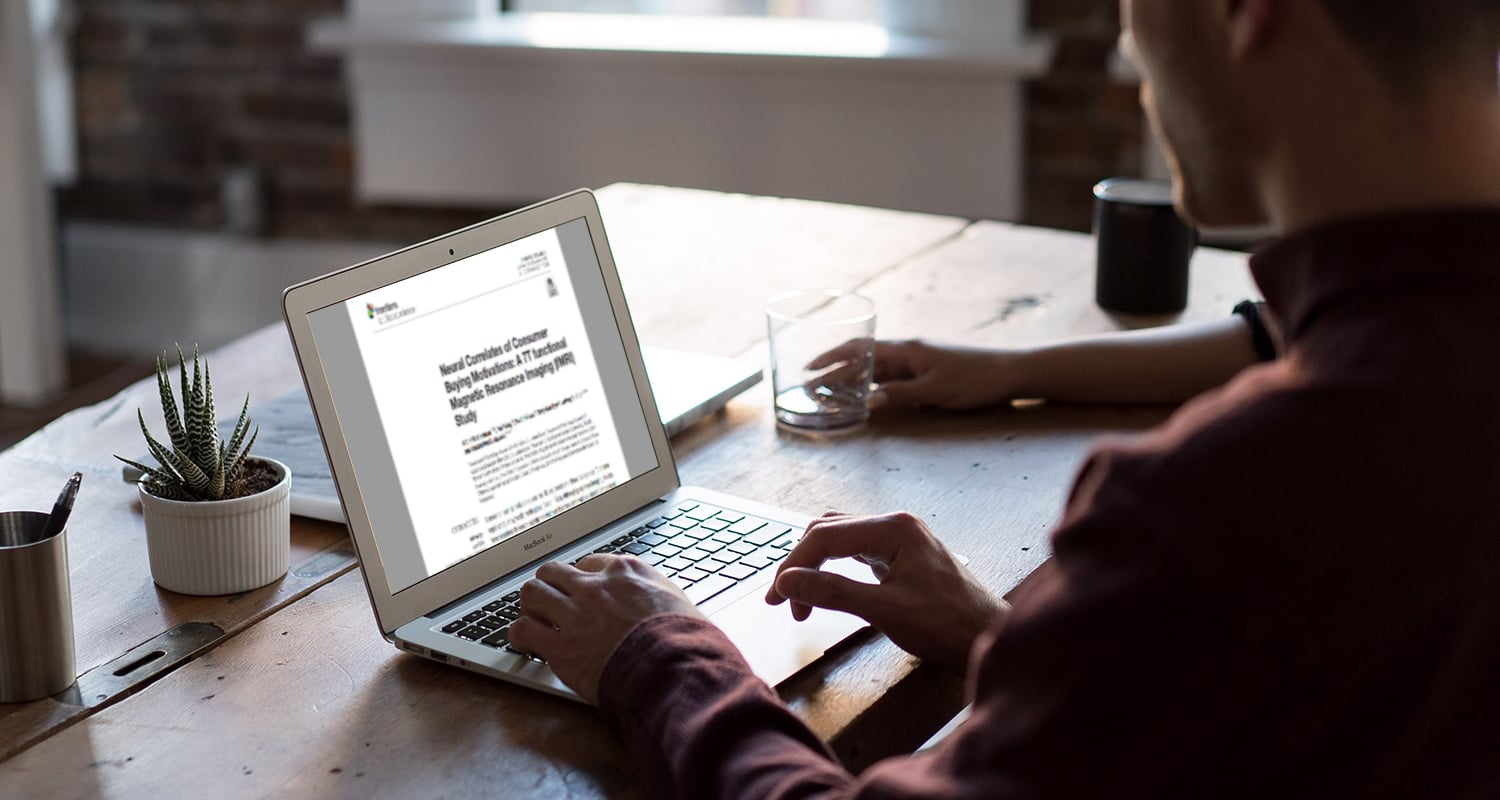 7 journals to consult for neuromarketing research papers
By the Bitbrain team
August 17, 2018
Neuromarketing has sparked great interest from brands and researchers, and also from everybody interested in marketing and consumer behavior. However, it can be sometimes difficult to find high quality sources of information to consult. We have carefully selected some scientific journals for consultation, and summarized some standard procedures to identify these resources.
Due to the empowerment of the consumer and increase in competitiveness, now (more than ever) the companies need to understand the consumers in a global manner. For decades, market research techniques have helped gather information on consumer behavior and how they think and verbalize. Nevertheless, this information has become insufficient, as many times the consumers do not desire or cannot express what they feel and think. Neuromarketing was born as a tool to help us, through the use of techniques such as EEG and eye tracking devices, help the physiological reactions that are directly connected to different emotional, cognitive and behavioral processes. Therefore, brands can understand how emotions, cognitive biases, and other non-conscious processes influence the decision-making process, and have a general idea of how the brain acts in the purchase process.
A new way of carrying out market research has emerged, which has attracted the attention of researchers and brands, and of anyone interested in marketing and consumer behavior. Neuromarketing has sparked great interest, which has been accompanied by an avalanche of information, many times dubious, on the possibilities offered by the technique. Therefore we must be cautious at the time of evaluating our sources of information, as nowadays there is a considerable amount of documentation related to consumer neuroscience - however, not all of it is precise or true.
The human being is complex and so are the interpretation of the physiological reactions of the nervous system, and the general understanding of the brain. It is crucial to know how to select neuromarketing information. Books, scientific papers and thesis are some of the sources we can consult, but we must always be critical. Just because a book, paper, video or neuromarketing blog is published or online, does not make it 100% reliable. And even if it is, we must be careful at the time of generalizing conclusions from a specific study to other applications (i.e., not expect the same results). In this way, consulting a scientific neuromarketing paper or neuroscientific study helps us establish the state of the art of the discipline, and guides us at the time of carrying out any studies. Examples of these studies include evaluation of a publicity campaign, test a new product or service, or evaluate the usability of a new website or app.
Usually, neuromarketing courses or masters train you to consult scientific studies, but for those who haven't taken a master course in the area or those who wish to refresh the training received, we present next some tips to search for papers, and list prestigious journals where you can find high quality papers.
How to search for neuromarketing scientific papers?
When searching for sources of scientific information, it is important to follow some guidelines to identify the importance and quality of these journals:
Evaluate the impact factor: The impact factor is an index of annual quality that assesses the quality and relevance of the journal as well as the repercussion obtained within the scientific community. Among these indices, we highlight the Journal Citation Report (JCR), which presents the best evaluation from organisms that assess research activities.

Verify indexation in scientific search engines such as Google Scholar, PubMed, Scopus or similar.

Confirm that the journal is peer-reviewed. This means that papers are written by experts, and then reviewed by anonymous experts in the field, ensuring the quality of the manuscript.
7 useful scientific journals for neuromarketing research
Although there are several sources to consult, in this post we propose seven journals where you can find scientific neuromarketing papers, studies on consumer neuroscience, general neuroscience, and marketing applied to the consumer. In this way, you can get familiarized with the new research trends that will help you guide your future research, form critical thinking regarding neuromarketing, and in general, to study and understand how our brain functions.
Within the Frontiers editorial, there is "Frontiers in Neuroscience", a leading journal in the field of neuroscience that publishes research of a wide range of specialties and disciplines, where you can also find information on consumer neuroscience. In 2016 it was the most cited journal in neuroscience, with 20,063 citations.
It is a peer-reviewed journal that counts with the support of an international research editorial team and has a JCR impact factor of 3.566 (2016).

PLOS ONE is the first open-access multidisciplinary journal in the world. This journal encompasses very diverse subjects related to, for example, natural sciences, medical investigation, engineering, social sciences, and humanities.
This peer-reviewed journal has a JCR impact factor of 3.234 (2014).

Founded in 1974, the "Journal of Consumer Research" is a bimonthly academic journal that covers research that describes and addresses multiple aspects of consumer behavior, including psychology, marketing sociology, economics, commerce, anthropology, business, communications, arts, and humanities.
This is a peer-reviewed journal, with an impact factor of 3.535 although it is still not indexed by JCR.

The Journal of Experimental Psychology was a bimonthly academic journal published by the American Psychology Association (APA). Since 1916 the journal published papers related to experimental psychology. After 1975, it was separated into three sections that are separately edited and distributed. One of these sections is "Journal of Experimental Psychology: General". This scientific journal still publishes papers on experimental psychology, including social and developmental processes, neuroscience techniques, and computational neuroscience.
This journal is peer-reviewed with an impact factor JIF of 4.42, but still not indexed by JCR.

"Journal of Marketing Research" is focused on market investigation and marketing. The journal formulates, reviews and comments on the developments in fields related to market investigation and its practice. Besides describing the benefits and advantages of the new methods, the studies always indicate their relevance in real-context applications.
This is a bimonthly journal published by the American Marketing Association. It is peer-reviewed with an impact factor of 3.9 (2017), although not indexed by JCR.

The "Journal of Consumer Psychology" publishes investigation studies related to psychology and consumer behavior. It is an official journal of the Society for Consumer Psychology, as part of the American Psychology Association (APA).
This is a peer-reviewed journal that has a JIF impact factor of 3.385 (2016), although not indexed by JCR.

Published by the Cambridge University Press, the "Journal of Advertising Research" is dedicated to providing information on publicity, marketing and research. This scientific journal is published for academics, professionals and users of publicity and communication, as well as for any person that actively participates in scientific research.
This is a peer-reviewed journal, that has been publishing for 40 years, and has an impact factor of 2.328 (2017), although not indexed by JCR.

Neuromarketing research is an iterative process that builds, with each study, a supporting scientific and knowledge basis. No matter what is your professional field, if you work for a company related to neuromarketing it is important that you know the latest advances and findings because, as in any other science, a neuromarketing trial must be based on scientific methodology and rigorousness. Keep in mind that reading a scientific papers is very different than reading a blog or a magazine. The sections have a different order, you will have to read some paragraphs again and probably seek other papers to clarify some points. The first time you read a scientific paper, it could take you a long time, but it will get easier as you acquire experience.
In summary, it is important to select a reliable source of information and not consider all information as true, not only related to consumer neuroscience, but with any discipline. Among the different sources of information we can consult, reading scientific papers are a guide to our professional practice and inform on the new findings related to our subject.
You might be interested in:
Get your latest collection of posts on Neurotechnology, Health, Research and Business.
Read about