By the Bitbrain team
July 31, 2018
Cognitive stimulation is a fundamental strategy for the improvement and rehabilitation of cognitive capabilities and executive functions such as memory, attention and processing speed. Do you want to know which are the most utilized? This post approaches, from a practical point of view, the most employed techniques and programs such as the Esteve and Rubio workbooks, brain training games such as Luminosity and Elevate, and new neurotechnologies such as Elevvo.
What is cognitive stimulation?
Cognitive stimulation (CE) refers to the set of techniques, strategies and materials to improve performance and effectiveness of cognitive capabilities and executive functions such as memory, attention, language, reasoning and planning, among others. Stimulation generates changes in brain plasticity, understood as the capability of the nervous system to change its structure and functionality as reaction and adaptation to the diversity of the surroundings.
The objective of this stimulation is to improve the cognitive functionality of the capabilities and abilities that are still preserved. This would be the case of people that wish to keep mentally active, such as healthy populations of all age groups, from school-aged children and adolescents to adults, athletes, and older adults that do not present any age-related decline or pathology.
However, regarding cognitive stimulation, the objective is to recover those capabilities that have suffered decline or deficit, reestablishing their functionality. Rehabilitation is a therapeutic intervention for people that suffer from any pathology that includes mild cognitive impairment such as depression, fibromyalgia, ADHD or older adults that manifest age-related cognitive decline. For the latter, memory is usually the capability that is affected first (more information about depression and its cognitive rehabilitation).
What cognitive capabilities can be improved?
There are several abilities that can be worked on through different techniques and programs for mental stimulation and improve cognition and quality of life. Some of the most important are: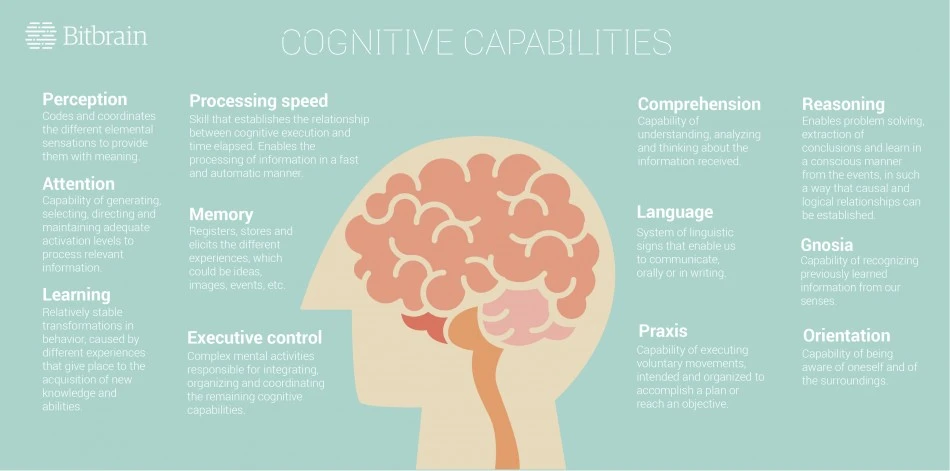 ¿Who can work on and strengthen their cognitive abilities?
Mental capability training through techniques and programs for cognitive stimulation can be applied to any age group and population. The difference lies within the objective:
What types of cognitive stimulation therapies and techniques are available?
Nowadays there is a variety of techniques and programs for cognitive stimulation according to the improvement or recovery needs of each person. There are two types: techniques oriented to utilize and work on cognitive capabilities, such as cognitive stimulation workbooks, brain training games, and online programs; and techniques oriented to improve the functionality of brain areas responsible for cognitive capabilities, such as neurotechnology. In both cases the objective is to improve and maintain cognitive capability.
Cognitive stimulation exercise workbooks:
Classical cognitive stimulation, based on pencil and paper, that works on functions and capabilities such as memory, attention, orientation, reasoning, problem solving, etc. Available in different levels of difficulty so that, in function of the cognitive development level presented, can be carried out by people of different ages and deterioration degrees, generating a habit. Some popular links are presented next.
Brain training games:
Applications for cell phones, tablets and computers that can be utilized anytime, anywhere. These applications work on different cognitive capabilities and executive functions such as attention, reasoning, language, memory and calculation, among others. Usually enable the adjustment of the difficulty level and creates a rankin with the scores of all people that have utilized the application.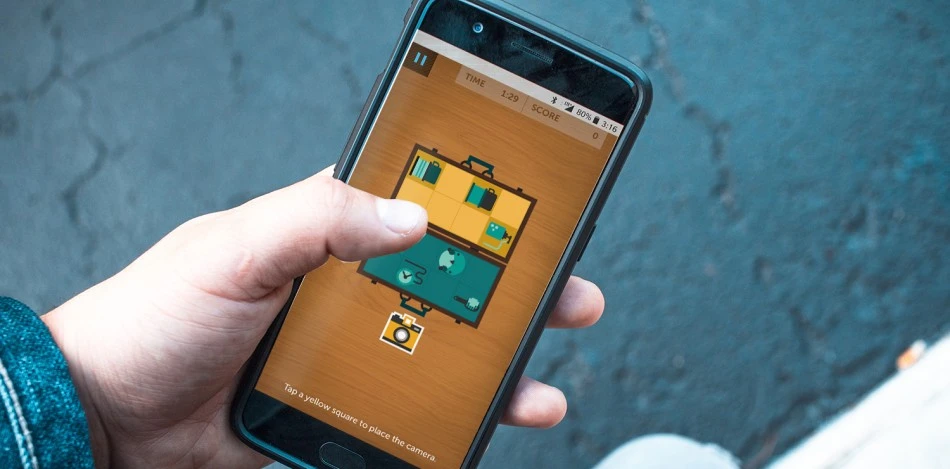 Online platforms for cognitive stimulation exercise
Online programs that provide dynamic activities for rehabilitation and stimulation of mental capabilities. Many of these platforms are used by professionals who, along with other techniques and more traditional therapies, complement the interventions oriented to improve those areas that present difficulties.
Regarding to computer games, they offer the possibility of adapting the difficulty levels to each user, there is limited evidence based on the transference of the learning to cognitively close tasks and daily life activities. However, these video games are widely used as cognitive rehabilitation exercises because they are easily accessible and can be employed practically anywhere and anytime.
Neurotechnology for cognitive stimulation
Recently new paradigms are being employed to produce neuroplastic changes in brain areas related to cognitive performance, to optimize functionality. These procedures use new technologies to record the brain activity of each person, adapting the necessary interventions (individualization) to produce the desired changes in brain neuroplasticity, which are related to rehabilitation and improvement of cognitive capabilities such as attention, memory and processing speed.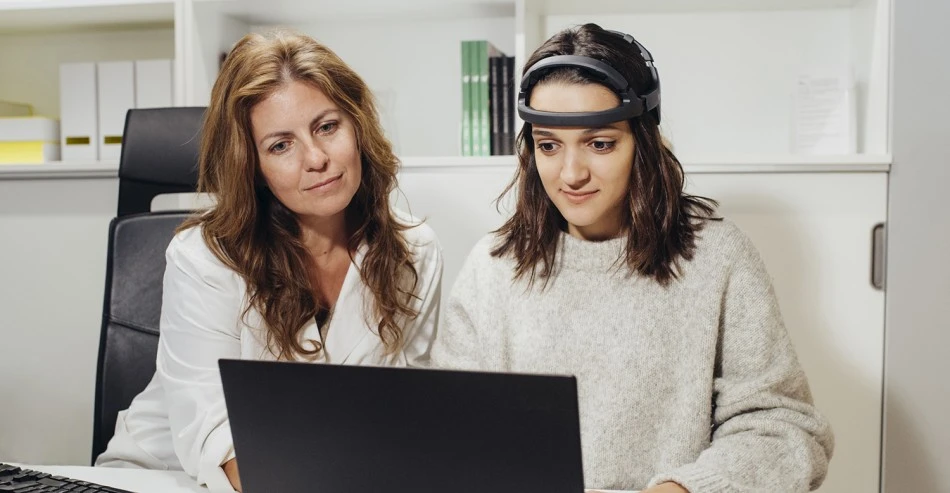 What is a cognitive stimulation program?
A cognitive stimulation therapy is a set of tools and techniques that aim at improving wellness and quality of life of people. It is an integral intervention that includes cognitive, behavioral, affective and physiological strategies. The objective is to create a habit of working on those areas that are compromised or that people need to improve to maintain functionally active in an autonomous manner.
An example of cognitive training program is the PACID Program, Integral Cognitive Activation Program for people with Alzheimer-type dementia. It is an integral program that, through cognitive, physiological and emotional stimulation and considering the deterioration level produced by dementia, maintains cognitive abilities and executive functions at adequate levels, preventing behavioral problems, controlling emotional states and fostering psychoeducative support.
Another program is the Integral Program for active aging of Castilla y León. It has the objective of preventing dependence and promoting active aging, contributing to improve the quality of life of people. This program is carried out in groups and promotes the acquisition of knowledge, attitudes and abilities for the optimization of health, the development of cognitive capabilities and executive functions as well as of the entire psychic and physical spheres, promoting adequate levels of interaction with the surroundings. Includes workshops on the promotion of physical activity, of cognitive stimulation, and capacitation for daily life activities, creativity and abilities.
Some cognitive stimulation materials:
Here is a summary of the different materials available for cognitive stimulation activities. On one hand, there are materials to work on cognitive capabilities themselves (workbooks, games and online platforms), and on the other hand, there are tools to work on the brain areas that support these capabilities (neurotechnology):

Nowadays there are multiple tools and stimulation techniques to help work on the different cognitive capabilities and executive functions. Moreover, they are easily accessible to all people and many offer feedback on the progress achieved. Aiming at the improvement of wellbeing and quality of life, these tools can be integrated within wide programs that address not only cognitive capabilities but also behavioral and emotional aspects and healthy habits.
You might be interested in:
Get your latest collection of posts on Neurotechnology, Health, Research and Business.
Read about